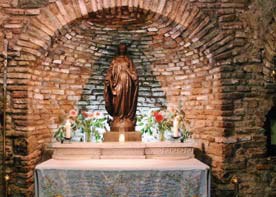 İzmir
is the third biggest city in Turkey, with a population of around 2.5 million, the second biggest port after Istanbul, and a good transport hub. Once the ancient city of Smyrna, it is now a modern, developed, and busy commercial centre, set around a huge bay and surrounded by mountains and was. The broad boulevards, glassfronted buildings and modern shopping centres are dotted with traditional red-tiled roofs, the 18th century market, and old mosques and churches, although the city has an atmosphere more of Mediterranean Europe than traditional Turkey.
The climate is comfortable, with a relatively mild summer due to the refreshing breeze from the Aegean. The long attractive palm-fringed promenade, Birince Kordon, which stretches the entire length of the city up to the Alsancak Ferry Terminal, is a popular spot for evening walks, and there are many cafes along the waterfront. Izmir has a good selection of culture and entertainment, from the Archaeological and Ethnographic Museums, to the Izmir State Opera and Ballet and Izmir State Symphony Orchestra, to the many bars and clubs. The cosmopolitan and lively city gets even busier during the International Izmir Festival (mid-June to mid-July) with music and dance, with performances also in nearby Çeşme and Ephesus.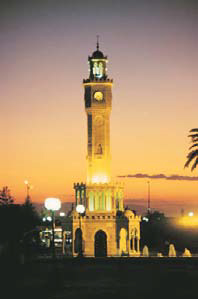 The House of the Virgin Mary, located on the top of the "Bulbul Dagi" (Mount Nightingale in English, which was known as Mt. Koressos in ancient times) 7 km from Selcuk is a shrine that is sacred to both Christians and Muslims. The house is called "Meryem Ana Evi" by Turks, which means "Mother Mary's House". It is believed by many that Mother Mary may have come in the area together with Saint John, who spent several years in the area to spread Christianity. The house which has a lovely atmosphere hidden in green is believed to be the last residence of the Virgin, where she may have spent her last years.
The original house was consisted of an anteroom, where you see the candles proposed today, bedroom and praying room and a room with fireplace. A front kitchen fell into ruins and has been restored in 1940's. The building looks more like a church than a house, today, visitors are allowed to the central part and the room on the right side of the altar. At the exit of the church area, you can see a source of fountains which called the "Water of Mary" and believed to have curative properties.